-Famous Korean Fried Chicken-
-Korean style burittos-
-Quesadilla-
& more
We now sell Korean and other beers
(Liquor Licence No. 32370964)
 Open Tuesday to Saturday – 11am to 8pm
Order ahead, direct on our website.
After years of experience in the food business both in South Korea and the heart of Melbourne, including a stint catering for the fussy workers of the Samsung company, chef Jenny wanted to make a positive impact by bringing healthy Korean-fusion specialties to the Ballarat food scene.
We love food bursting with colours, textures and flavours.
Our mission is to deliver quality fusion dishes, together with the most authentic, and best, Korean fried chicken to Ballarat.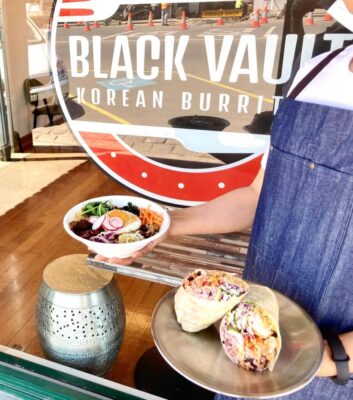 Tues to Sat 11:00am-8:00pm
Takeaway & dine-in -no bookings taken , just walk in.
Closed: Sunday & Monday
Order here on our website for pick-up orders
Delivery available from Doordash, UberEats, Menulog
Refer to their respective platforms for conditions & prices.
Black Vault Liquor Licence No. 32370964
34 Doveton St Nth, Ballarat 3350